Advanced Quality Custom Spring & Metal Forming
State-of-the Art Inspection & Quality Processes
---
Newcomb leads the industry in precision and repeatability. We utilize state-of-the-art manufacturing, measurement and quality control equipment to produce the highest-quality custom coil springs and metal forms.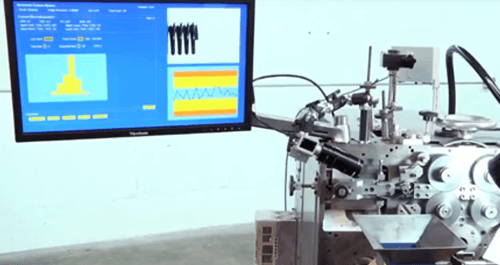 Precision Manufacturing & Inspection Of Coil Spring And Metal Formed Parts
---
Our network of facilities utilizes some of the most advanced and precise manufacturing equipment in the industry today. Customers rely on Newcomb Spring for quality parts and compliance to specifications, and we efficiently produce coil springs and metal forms with the strictest tolerance and quality requirements. Our manufacturing processes are highly exact – Newcomb Spring is a recognized leader in repeatability and quality verification, offering the quality control services that other companies can't match.
Camera Gauge Improves Speed and Accuracy in Production
Newcomb Spring's proprietary image dimension measuring system improves compliance and efficiency, combining cutting-edge camera gauge technology and the company's own software to monitor component specifications, accept or reject parts, and adjust as equipment is running.
Each part is photographed, with multiple dimensions verified using high-definition pixel analysis, resulting in consistency and compliance.
Even in high-speed production processes, precision and accuracy remain constant, eliminating variations in inspection techniques.
Results are documented in real time, inspections can be saved and recalled, as needed.
Leading Metal Form And Spring Quality Technologies
---
Our advanced quality control and inspection equipment includes highly-accurate laser measurement equipment and photographic tolerance measurement tools – some of the industries newest and most precise quality controls. This technology provides the highest levels of repeatability and accuracy available in the market today.
Many Newcomb Spring plants are now utilizing state-of-the-art "image dimension measuring systems." This equipment rapidly measures up to 99 dimensions on parts, with an accuracy of +/-.0002, eliminating variations in inspection techniques. Each part is photographed and measured as it is manufactured, so parts are high-quality, precise and accurate, even with high-speed production processes. These systems also provide documented results - inspections can be saved and recalled as needed.
Advanced Quality Control Equipment
---
Every part of Newcomb Spring's production processes are designed for precision. Our facilities utilize an array of inspection and measurement equipment from hand-held gauges and Keyence Image systems to proprietary in-house quality software and vision equipment. At Newcomb Spring compliance comes first.