Advanced Metal Forming Equipment
State-of-the-Art Machinery and Technologies for Custom Spring & Metal Forming
---
With nine locations in the United States and Canada, Newcomb Spring offers an extensive variety of spring forming, metal stamping and wire forming equipment. Our modern operations provide precise custom manufacturing capabilities and allow us to deliver unmatched repeatability and quality.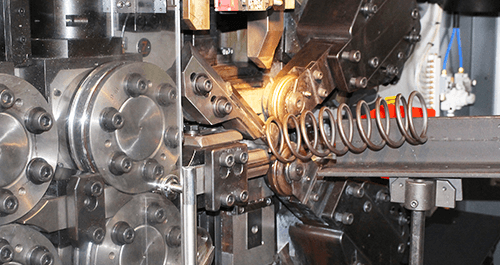 Unmatched Investment in New Technologies & Machinery
---
One of North America's largest metal and spring forming companies, Newcomb Spring consistently invests millions of dollars annually in new equipment. Our commitment to quality and efficiency is unrivaled, and we recognized that modern machinery and computerized technologies improve compliance and reduce waste.
Precision Metal Stamping, Wire & Spring Forming Equipment
---
Together, our network of locations house some of the world's most advanced precision spring and metal forming equipment. From automated CNC spring coilers that form wire as large as .625", to 100-ton punches for high-speed precision metal stamping, Newcomb Spring equipment and technologies is unsurpassed.
Much of our equipment allows for order reporting, with integrated computerized systems that can track part-specific data as well as broader order details. With regular upgrades to our stamping, wire and spring forming machinery, and on-going investments in new equipment, we are able to meet even the most demanding customer requirements.
Expert Staff & Advanced Equipment
---
The Newcomb Spring team is one of the industry's most experienced. With engineers, design support and expert manufacturing personnel, our staff is able to utilize new metal and spring forming equipment to its maximum potential. Our staff undergoes continual training on new equipment, and we combine the industry's most experienced professionals with state-of-the-art technology for precision results.
Newcomb Spring even offers our own Innovation Department for orders that require unique attention. If the right software and machinery doesn't exist to produce your component, our Innovation Department sets out to build it. Our equipment list is not only extensive, it includes proprietary solutions that no one else in the metal forming and spring forming industry can offer.
Integrated Spring Forming & Metal Forming Solutions
---
One of Newcomb Spring's greatest strengths is our ability to harness technology, equipment and processes, and combine them with our legacy of expertise in spring and metal form manufacturing. Some of the industry's most demanding customers rely on Newcomb Spring forming capabilities. Our components are integral in mission critical operations and harsh applications around the world.
Notable Metal Forming & Spring Forming Equipment
---
While each Newcomb Spring manufacturing facility houses a diverse array of spring forming and metal component manufacturing equipment, some of our notable technologies include:
CNC Spring Coilers for Wire Diameters from .007–.625" inches (0.178–15.875 mm)
Extensive Range of Wafios CNC Forming Machinery
Wafios BM40 CNC Horizontal Wire Bender
100-Ton Punch Machinery
UR3 Robotic Arm Technology
Self-Feeding, Self-Adjusting, Dorn Compression Spring Grinding System
Keyence Image Dimension Systems