Standard & Specialty Packaging
Metal Form & Spring Packaging – Shipped in Bulk or Customized for You
---
Newcomb Spring packaging methods are designed so our parts are easy for customers to use in their products. We can customize our processes to meet your specific requirements – providing highly-unique packaging or basic, bulk spring and metal form shipments by specific quantity, weight or by part collection.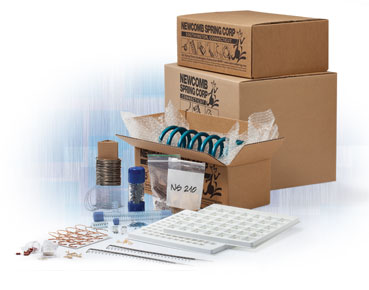 Custom Spring And Metal Form Manufacturing & Packaging
---
As a custom manufacturer, Newcomb Spring tailors our production processes to the needs of our customers. Our experienced staff will review the unique concerns of our customers' operations and production systems to help determine the most effective and efficient metal form and spring packaging options.
We offer a variety of options to package spring and metal form parts, including:
in bulk
on cardboard triangles
in plastic/injected-molded trays
on tacky board
over tubes
packed in layers
packed to prevent corrosion
using reinforced packaging for increased part protection
labeled with information helpful for your shipping and receiving department
packed in other custom packages
Newcomb strives to fulfill every customer's needs. If you have a packaging method that would make your processes easier, please contact us, we can likely develop a solution.
Part Identification
---
In addition to our specialty packaging services, Newcomb Spring parts can be identified to help in your receiving operations. Contact us for more on part labeling, engraving, bar code identification and more.