Big A*$ Manufacturing for Heavy-Duty Springs and Wire Forms
---
Bringing You Precision CNC Manufacturing for Heavy-Duty Springs and Heavy-Gauge Wire Form Components
Get a Heavy Duty Spring Quote
About Our Heavy Duty Manufacturing Process
---
Big machines that handle big loads need big springs and components. That's why we put together a department specifically focused on the manufacturing of heavy-duty springs and heavy-gauge wire forms. We call it BAM, for Big A*$ Manufacturing. What it offers you are large-capacity CNC forming machines and specialized engineering know-how to manufacture heavy-duty springs and wire form parts that meet your specifications for quality, performance and reliability.
---
A Wide Range Of Shapes And Materials — Up To 0.625 Inches In Wire Diameter
---
The BAM department can manufacture heavy-duty components in a wide variety of shapes, sizes, and materials, up to 0.625 inches in wire diameter (15.875 mm). Common stock shapes include round, flattened, square and rectangular, and special-section wire.
---
Delivering Quality Components Is Our Highest Priority
---
Backed by a long-legacy of proven experience in the manufacturing of springs and wire forms, our BAM department employs advanced measurement and quality assurance technologies so you get components that comply to your specs and are consistent across the production run. The BAM department is available for long or short production runs of: `
Heavy-duty compression springs
Heavy-duty extension springs
Heavy-duty torsion springs
Heavy-gauge wire formed components
Finishing Services To Support Your Application
---
Newcomb Spring offers a range of secondary production, assembly and finishing services so that your heavy-duty springs and wire forms arrive ready-to-install on your equipment or machinery. Plus, we can custom package your components for easy inventory management.
---
The BAM Team Is Ready To Help
---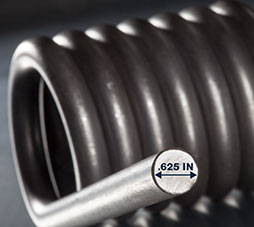 From prototyping services to pre-production evaluation, Newcomb Spring's BAM team is ready to provide our proven manufacturing expertise to help save time, reduce waste, lower costs, and improve the quality of your components. We'll work with you to review your application and specifications, and provide valuable input about spring or wire form configurations, fit and function, load considerations, material selection, finishing options, and more. When it comes to heavy-duty springs and heavy-gauge wire forms, Newcomb Spring's BAM department delivers the manufacturing expertise you need to support the peak performance of your heavy equipment and machinery.
---
Meeting The Needs Of Heavy Equipment Manufacturers Worldwide
---
Newcomb Spring's BAM department addresses the needs of manufacturers in industries such as construction, agriculture, aerospace, defense, energy, mining, and more. Equipment and machinery in these industries often experience heavy loads and need specialized, heavy-duty springs and components to handle the extreme forces involved in their operation. The BAM department can manufacture heavy-duty springs and heavy-gauge wire form components that are ready to handle the most demanding tasks. Contact us today and tell us about your heavy-duty application requirements.