Newcomb Spring of Connecticut
---
Newcomb Spring of Connecticut has been in continuous operation for over 50 years, making us one of the leading custom spring manufacturer in Connecticut. While this plant is one of the largest Newcomb facilities, we remain focused on personalized service, customizing our production processes to meet the individual needs of every customer.
The Newcomb Connecticut facility operates with some of the most efficient production equipment in the industry. We work continuously to update our manufacturing environment and procedures, lowering our cost-per-piece while maintaining strict compliance to customer specifications.
Our parts are manufactured using quality metal materials, and we are dedicated to producing components that are reliable and accurate. With state-of-the-art capabilities, an experienced staff and a dedication to quality, Newcomb Spring of Connecticut continues to offer the service of a smaller operation and the resources of one country's largest spring manufacturers.
The dedicated Newcomb Connecticut operation is designed to provide the highest levels of quality and compliance at low prices.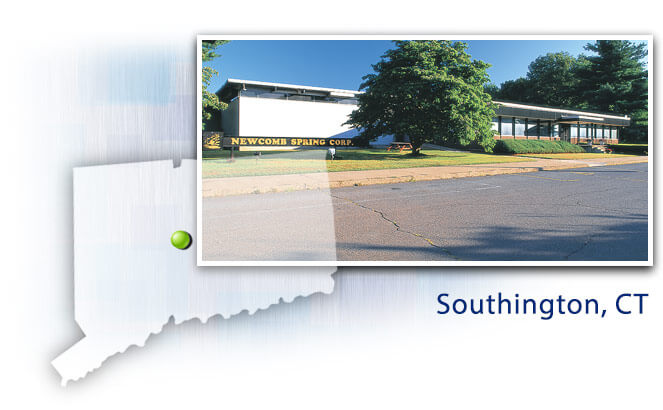 Connecticut
235 Spring Street
Southington, CT 06489
(860) 621-0111
(860) 621-7048
The Newcomb Spring Network: Connecticut & New England
---
Newcomb Spring of Connecticut operates with ISO 9001 quality-certified systems and utilizes real-time information sharing with our other locations. We also offer facilities in:
Visit Newcomb Spring Of Connecticut
---
If you would like to visit our Southington facility please contact Newcomb Connecticut at the address and phone number below, or email us at ct@newcombspring.com. One of our customer service representatives will gladly arrange a visit and can answer your questions.