Newcomb Spring of California
ISO 9001 Certified Quality Systems
---
Newcomb Spring of California has grown substantially from when it was founded in 1979. Though originally it primarily served the aerospace industry, the quality of parts and high rate of customer satisfaction has brought us clients from a diverse array of industries - including sporting goods, outdoor equipment and computers making us a leading California spring manufacturer.
Our facility mainly serves customers in California, Nevada, Hawaii and the western United States, and has been built to meet customers' needs throughout the entire spring and metal form production process. Full, secondary and short order departments have been created to allow for the production of parts out of flat strip, and also allow for the addition of hooks and bends to parts which are manufactured on conventional equipment. Our upgraded grinding department operates at exceptionally high grinding speeds for wire diameters from .010-inches to .148-inches.
The dedicated Newcomb Spring of California staff has earned a reputation as an industry leader in quality assurance, utilizing state of the art inspection equipment including optical comparators, digital torsion testers and Larson load testers. Newcomb Spring of California also serves as a "ship-to-stock" supplier of components for some of the largest companies in the world.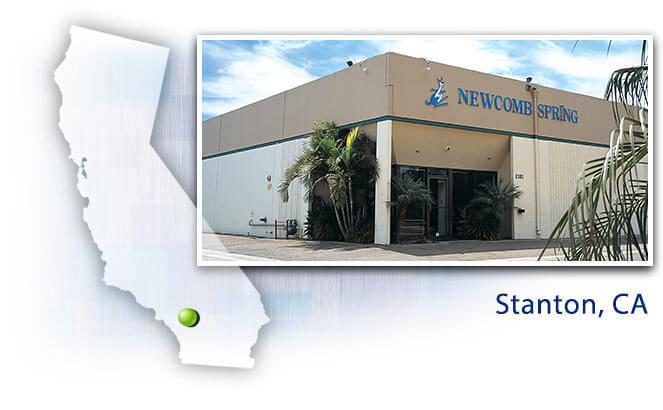 California
8380 Cerritos Avenue
Stanton, CA 90680
(714) 995-5341
(714) 995-7127
The Newcomb Spring Network: California & The West Coast
---
Newcomb Spring of California operates with ISO 9001 quality-certified systems and utilizes real-time information sharing with our other locations. We also offer facilities in:
Visit Newcomb Spring Of California
---
If you would like to visit our Stanton facility please contact Newcomb California at the address and phone number below, or email us at ca@newcombspring.com. One of our customer service representatives will gladly arrange a visit and can answer your questions.