Micro Springs
---
.0015 to .006 Inches In Spring Wire Diameter
Micro Compression, Extension & Torsion Springs
Standard & Custom Micro Spring Body Shapes
Often Used for Medical Applications
Custom Micro Springs, Manufactured to Your
Specifications
Get a Micro Spring Quote
Micro Spring Manufacturing Specifications
---
While we have listed some of the most common shapes, materials and manufacturing specifications, Newcomb Spring provides completely customized production on all micro spring parts.
Large Volume Orders, Short Runs & Prototypes – formed, assembled and packaged to meet your requirements.
Proprietary Camera Gauge for Superior Quality – photographs and verifies each part, automatically adjusting production without shutdown.
Kando Tech Centers – in all 8 manufacturing facilities you can work with our team and equipment to optimize designs and lower costs.
Engineering Support – our team can provide expert design assistance on any order, or view our online spring design resources.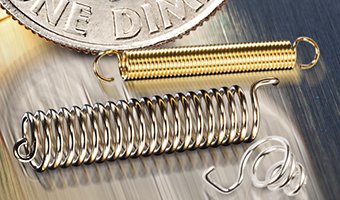 Common Micro Spring Types
---
Micro Spring Types
---
All of our micro springs are available in varying lengths, in standard and custom spring body designs. As a manufacturer of completely custom micro spring components, Newcomb can produce parts to meet your needs and application. We offer design assistance on all micro spring parts we produce, and even have our very own spring calculator, the Springulator®, to help customers in the engineering of their micro springs.
Our micro spring part types include:
Micro Compression Springs
Micro Extension Springs
Micro Torsion Springs / Torque Springs
Micro Double Torsion Springs
Barrel-Shaped Micro Springs
Cone-Shaped Micro Springs
Hourglass-Shaped Micro Springs
Secondary Operations
---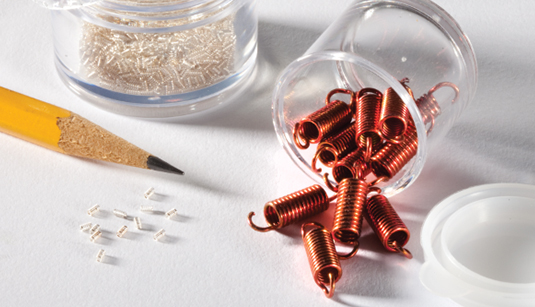 Our micro spring and micro-sized parts are utilized in a variety of unique, specialized and mission critical applications. Micro springs often require additional secondary operations so they meet the needs of your application and are easy to use in your products. Our facilities offer a wide variety of secondary operations and advanced capabilities often used in micro spring manufacturing, including:
Advanced Quality Controls
Finishing & Assembly
Specialty Packaging
and More
As a custom manufacturer of micro springs, our operations and services can be tailored to best fit your needs and order requirements.
Micro Springs Information
---
Newcomb Spring manufactures micro springs in a variety of shapes, lengths and materials. We maintain the strictest compliance to order specifications for all micro spring parts, producing precise components for even the most critical applications. Many of our micro springs are utilized in medical applications, however, with our extremely strict compliance to specifications, Newcomb micro springs and micro-sized components are used by a variety of industries and in specialized functions.
Newcomb facilities manufacture micro compression spring, extension spring and torsion spring components. All of our parts are custom produced to meet your specifications and needs.
With state-of-the-art equipment and advanced quality control technologies, we are able to manufacture micro springs with highly-repeatable results, meeting customer tolerance requirements while maintaining manufacturing efficiency. This allows Newcomb Spring to deliver the highest quality micro spring parts at low prices.