Fast Metal Form & Spring Prototypes
Custom Prototype Manufacturing of Springs, Wire Forms and Stampings
---
Many customers choose Newcomb Spring for our ability to produce precision components quickly. Our plants can meet very fast turnaround deadlines for springs and forms, helping our customers get the parts they need, when they need them.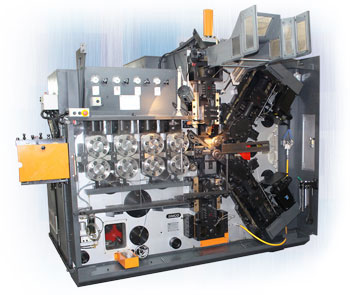 Newcomb Spring Network
---
Our network of facilities provides us with a unique advantage in the market - if one plant ever goes off-line or has a large work load, another plant is able to manufacture your springs and forms. Each Newcomb facility is connected with real-time data sharing, so order specifics can be communicated and sent to production quickly and efficiently.
Every Newcomb plant is equipped with modern technologies that allow for efficient manufacturing. With automated processes that lower costs and advanced quality controls, ordering with Newcomb means your job is delivered right, and delivered on-time.
Fast order turnaround requirements are common at Newcomb Spring. We meet deadlines that our competitors just can't meet.
Fast Spring Prototypes
---
Many customers work with Newcomb Spring to produce custom metal form and spring prototypes, and we work with you throughout the design process to advise on manufacturing, spatial and stress considerations. Every Newcomb Spring manufacturing facility offers a Kando Tech Center - a special space dedicated to assisting customers, reviewing processes and developing metal form and spring prototypes. With our in-house tooling capabilities and automated processes we are able to produce prototypes quickly and with the highest levels of precision. Customers can work on-site in a Kando Tech Center, using dedicated Newcomb Spring staff and equipment, to modify designs and quickly develop prototypes.
Check out a specific example of fast, custom prototyping at a Kando Tech Center. Learn more about our design assistance services and our Kando Tech Centers, or submit a quote online for your metal form and spring prototype needs.